Germany has been recognized as one of the best places to study medical programs. In this article, we will look at the procedure for applying to medical education(MBBS) in Germany. Germany has an excellent Health care system. All the German population has health insurance to fund their medical care. Thus to maintain such a great systemic health care system, the German government has a lot to do. That includes providing the best hospitals and medical schools.

MBBS in Germany
Germany states offer free undergraduate studies in all public German University. Thus, all native, as well as international students, can study free in Germany at the undergraduate level. So, there is no tuition fee for MBBS. You only have to make payment for the language course and other living costs. German medical universities are one of the best in the world. Therefore there is a very high competition for admission. To get admission you must have an excellent level of knowledge in medicine. MBBS is called MD (doctor of medicine degree) in Germany.
Eligibility Criteria
You are eligible for medical education in Germany if:
Have a minimum of 60% marks at Intermediate level education or A levels.
If you have passed the mandatory English Proficiency Certificate (IELT/TOEFL).
Have very good academic records and achievements.
You need a German Language proficiency of B1 or C1 level (depends on the entry type).
Document Requirements for MBBS in Germany
The documents required depend on the university. But you will mostly require: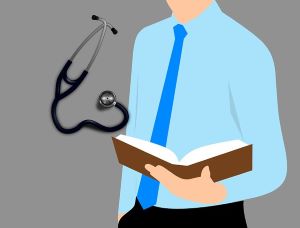 Biometric photographs
A Valid Passport not issued for more than 10 years ago. (The date of expiry of the passport should be at least 12 months after the date of scheduled return).
A High school qualification result card equivalent to German qualifications.
An intermediate qualification result card equivalent to German.
You must have higher grades in particular subjects (especially biology and chemistry) related to your medical studies.
Also, a school leaving certificate.
All MBBS/MD programs are in German. Thus there should be a German proficiency certificate.
IELTS and TOEFL to evaluate your English proficiency. You need to pass with at least 6 bands (higher depending upon university).
You have to give some specific examination tests(entrance exams) to evaluate if you are eligible for medical (i.e Feststellungsprüfung).
Downloaded the application from the website of your chosen university
Write a Motivation letter
Get a recommendation letter from your teachers.
A document to confirm your plan to stay in Europe.
Admission entry types
You can enter medical university in two ways depending on your education level:
Direct Entry
For direct admission to the MBBS you need following qualifications:
You need to be A levels graduate. In which you have studied one language, Chemistry, Mathematics, Biology and Physics subjects. And you must have German language knowledge of at least Level C1.
You have completed education until intermediate studies (12-year education). And then you have also successfully completed two years of MBBS course at your home country University. And also you need German language knowledge of at least level C1.
Indirect Entry
For indirect admission, you will have to do additional studies and give Exams. For indirect admission you must have the following qualification:
You have completed intermediate education only and will have to study Studienkolleg (M course) that takes one year. Then give the general university entrance exam (Feststellungsprüfung).
To apply for admission to Studienkolleg you need to give an "Aufnahmeprüfung". You will need knowledge of the German language of at least B1 level for this test.
 Then after studienkollegs, you give Feststellungsprüfung. That proves that you are eligible for MD/MBBS admission and also your German language proficiency (C1 level).
Procedure of applying
You will have to follow following steps to apply for admission in Germany:
Select the University for applying.
Then check the documentation required by the university. Mostly above mentioned are needed but still, you must check for confirmation.
Fill the admission form online available on the chosen university website.
Then scan your documents and submit the result cards, passport and other documents specified by University.
You just have to wait then. And you will receive the acceptance letter from University.
As the admission is confirmed your German student visa process will start.
For which you have to book an appointment at the German embassy.
And you have to open a blocked account.
German student visa process may take 3-5 weeks so you have to apply early.
After getting visa book travel insurance and travel tickets as soon as possible.
Conditions
MBBS/MD education in Germany is only provided in German. So you will have to learn German at all cost.
You cannot work during your language learning year.
You can work part-time (15-20 hours a week) from your second year onwards).
There is no scholarship for MBBS/MD studies. Although the tuition is free you will have to cover your own living expenses.
Cost of MBBS in Germany
For moving to Germany to study MBBS/MD you will have to cover following costs:
There are no tuition fees for MBBS in Germany. So you do not have to pay tuition.
However, you have to pay only for semester contribution that includes enrollment and administration fee that is around 150 Euros to 350 Euros per semester.
You have to pay for the first year for language learning about 4000-5000 Euros for the whole course. You cannot work part-time during this course.
Except this, you have to arrange your accommodation for Germany. This cost about 170-350 Euros (depending on your choice of accommodation) per month.
An also there are living costs in Germany that you will have to take care of. This includes your Health insurance, residence permit, exam fees, textbooks, etc.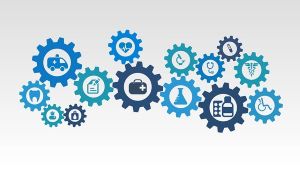 Application Deadlines
The Application deadline for MBBS/MD depends on the University. Most medical universities in Germany start semester twice a year. So you can apply:

Either in July for the Winter Semester
Or January for the Summer Semester
Universities have different application deadlines. So you must consult the University website for exact deadlines. And keep in mind this information early enough so that you are able to apply for application on time.
Benefits of studying MBBS in Germany
There is no tuition fee or very Low tuition fee for MBBS in Germany.
The quality of education for MBBS in Germany is high.
You can start working after completing your Medical education in Germany. The pay will be higher.
Germany has affordable living expenses, especially for students.
Germany is a beautiful county to visit. You can explore it.
From your second year, you are eligible to work part-time. Through which you can earn enough to cover your cost.
Germany as one of the European states. Allows you to travel to other European states.
Completing your MD/MBBS you can enrol for post-graduation in medicine in Germany easily.
Students are allowed to stay 18 months after completing their MD/MBBS studies to either work or enrol for more education.
We hope this article helps you get admission into a medical University of Germany.