In this article, we will look at the student part-time jobs available in Germany for international students. Part-time jobs are like mini-jobs. As you do not have to work full time. The number of students moving to Germany is increasing very rapidly. In Germany even if you are offered a full scholarship, you have day to day expenses to cover. So many students are always in search of jobs. For international students, part-time jobs are the best option.
[adinserter block="1″]
Can I work in Germany with a student visa?
If you are moving from a European state to Germany, you neither need a working permit nor do you have any restrictions to working hours. But you may have to pay tax to the German government if you earn more than a specific amount.
But in case you are moving from a non-European state as a student. That means you have a Student Visa. And you are not allowed to work full time on a student visa. Because they want you to study not work. There is also a restriction on working hours. You can work only 15-20 hours per week. And in some states, you can only work on weekends if you are a student. With these restrictions, student prefers part-time jobs.

Types of work
There are different types of work options available to Germany students. Keep in mind all of these work types will cause a reduction in working hours. These are as follow:
[adinserter block="1″]
Part-time jobs
Vacation jobs
Internships
Volunteering
Volunteering are not earning jobs. So for earning you will need a part-time job.
How much money a student can earn in Germany?
Keep in mind that you cannot cover your daily expenses as well as your tuition fee in Germany with part-time. You may be able to cover your expenses somehow with part-time if you have a scholarship for your tuition. The minimum wage has been set by the German government. A student usually earns about 9-15 Euro per hour depending on the part-time.
Student Part-time jobs
Students can avail a variety of part-time jobs. Each job pay may differ. The most common jobs done by students in Germany are:
Tutoring
You can tutor students. Tutoring mostly involves teaching English. You can earn good money with this job. For this, you need to have English and German language skills. You can also tutor other subjects if you excel in them depending upon your situation.
Waitering at restaurants/Bars
Many students prefer to work as a waiter. For this job, you can adjust the time depending upon your schedule. This job does not have requirements so anyone can do this. There are perks of working at a restaurant. You may be able to get free food. This will shorten your food expenses.
Home delivery
Some students can work as a delivery person. You can work for a restaurant, offices, post and online companies. Sometimes you can get paid well. You will need a license in case you need to drive something. Perks of this job involves getting tips always.
Taxi driving
You can work as a taxi driver in Germany. This is also a well-paid job. For this, you can get a German driving license that is not a difficult job. You will select some specific hours and drive a taxi for that time. The perk of this job is that you can visit many places.
[adinserter block="1″]
Babysitting
You can work as a nanny. You can do this in daycare centres or directly work at someone home. Many German parents are working and look for a competent baby sitter for their children. If you like being around children this a perfect job for you. The perk of this job is that once you have started working as a baby sitter you can re-negotiate your pay.
Retail shops worker
You can work at a retail shop. For this job, you need to know about products and solve customer issues. For this job, you will require good communication skills as well as German language knowledge.
Call centre
You can work at a call centre. For this job, you need good communication skills to be able to talk to customers and handle their issues. You need to have German skills for this. The perk of this job is that you can adjust working timings according to your schedule.
[adinserter block="1″]
Academic assistant
Academic assistants are people who work at university. They may be research assistants, supervise library, laboratory assistants, etc. Academic assistants are called "Hilfswissenschaftler" or simply "Hiwis" in German. This is one of the highest paying part-time jobs for students. And if you choose an area related to your field it will develop your CV as well. The perk of this job is that there is no time restriction for academic assistance. They can work longer but they need to inform the foreign registration office.
Where to find such jobs?
In Germany Jobs are mostly easily available. You just have to look at the correct places. For the part-time jobs you can look at: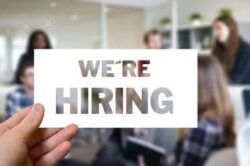 The notice board of your university. This is the best place to look for part-time jobs. Many people would have uploaded advertisements for jobs. And you can look for jobs inside your university as well.
For working as an academic assistant you have to look at the university website or at the notice board. You can also obtain information through your local student service office at the university.
You can search online for jobs. There are several German websites that offer jobs. You can search through these websites. Look for the Jobs most appropriate for you. You can not get a full-time job as a student. So look for only part-time ones.
You can go to restaurants, bars, cafes, and retail shops. Either inquire them if they need workers or simply look for advertisements called "Aushilfe" in German.
And you may also look for job advertisements in local newspapers.
Or you could go to the Federal employment agency for the job.
We hope this article helps you get a part time job in Germany.