Tipping in Germany is different compared to other countries. When you move to a place you should the norms and tradition of that place. So that you are not perceived as rude and weird in society. There is a proverb "When in Rome, do as the Romans do". We should follow the guidelines of this proverb. In order to acclimatize to a new environment, one should study the place before moving. Tipping system in Germany is not as complicated as most foreigners have presumed.
[adinserter block="1″]
Is tipping allowed in Germany?
People presume that Germany won't have any tipping culture. This is mostly misunderstood because of the straightforward and cold attitude of Germans.  However, tipping is common in Germany. In fact, it is a representation of your satisfaction towards their services.
Rules for Tipping in Germany
There are no strict rules of tipping, but the method of tipping is different in Germany. In most countries, you leave tip on the table in restaurants.  But that is not the case in Germany.  In Germany, you tell the server how much you want to give tip. You can understand that tipping is something you should do in Germany but you necessarily do not have to do it.
[adinserter block="1″]
You only tip if you receive some sort of service. In case you are just doing take away you do not have to give tips. As workers are mostly paid a good minimum wage in Germany they do not depend on tips. But not giving tip in case you have received services is a sign of dissatisfaction.
How much is tipping in Germany?
The amount of tipping is not precise but you usually tip 5-10% of your bill. Mostly people just round off the amount when giving tip. For example, if your bill is 8.50 Euros you just pay 10 Euros, 1.5 Euros as a tip. If your bill is bigger like 132 Euros give 140 Euros. Most people do not tip more than 10 Euros.
In case you have eaten at a restaurant and servers has served you food and drinks. Then you have to tip the waiter. The method is that after you have finished the food you call the waiter. Don't call by name, just try to make a eye contact or waiter will come to you. He will let you know the amount of your bill. For example, it was like it was 17.5 Euros. If you want to give tip tell amount above the bill. In this case, you give him 20 Euros and tell to cut 19 Euros he will understand that 1.5 Euros is a tip. Leaving tip at the table is considered very rude in Germany.
How to tip in a restaurant?
You do not pay a tip if you are not satisfied with food or service. Also in Germany, if you are eating with friends the correct method there is splitting the bill. Germans prefer to pay for only what they consumed. In this case call, the waiter asks him for your bill only and you can pay for yourself. Since he took time to separately tell everyone individually their bill one should at least give him a Euro.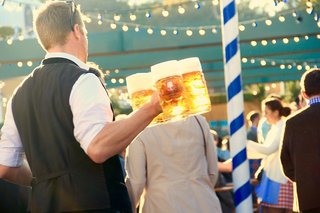 Tipping in bars
[adinserter block="1″]
If you are in Bar and barman is just pouring drinks in glasses just round off your bill to your neatest Euro or do not pay a tip. But if you are in the table service bar and you are served drinks. Give tip at least 10% of your bill.
In hotels, if you receive services like room service or concierge give them a tip. If they carry your bags to the room you have to pay at least 2 Euros to them. It also depends upon their attitude if they are rude and cold you can simply forget tipping.
Tipping at spa or hairdressers
In the case of hairdressers or spa, most people follow the rule of 10%. You receive services and pay them a tip that is 10% of your bill. You do not have to overdo it just pay some Euros. This will show that you were satisfied with their services.
In case of a local journey, you just round off your bill to the nearest Euro. But if you take a longer ride give the driver a Euro or two. However, if the driver was rude or you didn't like driving or something just does not pay any tip.
In case of delivery, you should pay at least a Euro to them. In case you made them go through long stairs it should be common courtesy to at least pay 2 Euros.
Public washrooms
[adinserter block="1″]
Outside public washrooms there can be cash counter or a person sitting. It is understood that you have to pay them a tip. It is mostly 50 cents. This is a mandatory tip you have to give them for keeping washrooms clean.
Frequently asked questions
Is tipping necessary in Germany?
You tip when you received good service and were happy with it. In case you do not tip it means something was wrong. As in Germany If you are not satisfied with the service, you do not leave tip at all.
But if you are only grabbing something like coffee and come out of the cafe in minutes, it is fine to not leave a tip.
Is tipping rude in Germany?
If you receive services and do not pay tip it is considered rude. You are looked as frugal. Also in case you leave tip on the table in restaurants and cafe this is also considered rude.
How to Tip with a credit card?
If you are paying by card, tell the server the amount you wish to tip before they swipe your card. However, to guarantee that the entire tip goes to the server, it's better to pay the tip in cash. Also in Germany cash rules. So most places do not accept card it is better to pay in cash.
We hope this article helps you get enlighten about the tipping culture in Germany.