If you want to save money in Germany you need to be calculative. A large number of people are moving to Germany. While it may look great moving to a well-reputed country but it is not as easy it seems. It may have a flourishing economy and opportunities. But moving to a new place is very difficult. And when it comes to managing expenses you may find yourself stuck in a very bad situation, if you have not been careful about your expenditure from start. We will give you an idea about how to manage your finances.

You may be able to save a good amount of money if you spend carefully in Germany. The expenses vary from city to city in Germany. But saving methods can be applied anywhere. If you are moving to Germany bring the necessary items from your homeland. Please go through our advised packing list for Germany.
Choice of accommodation
Accommodation is where most of your expense goes when living in Germany. Look for the shared accommodations. In this way, you can share the amount among roommates. While in private accommodation of one person you will be paying a huge sum.
Also, look for accommodation that is near your place of work or study. This will cut the commute cost for you.
Food
When it comes to food it is a necessity. But you can save a lot from food as well. Firstly, stop ordering food online. Also, stop eating out. Instead, cook yourself. By doing this you will be saving a lot. Fast food chains also offer special vouchers and discounts.
And when shopping do not buy the expensive ones, instead buy the most nutritious ones which are low cost.
Cook only how much you eat.
Do not stock the food as a lot of food goes waste because you overstock.
There are a lot of low-cost brands in Germany which most students prefer. This does not mean that they are of cheap quality. Germany is strict about rules so you will get good ones at a low price.
Most students prefer Aldi and Netto for their grocery.
Transport
When you move to Germany most people will advise you not to buy a car. As its maintenance and insurance will cost a lot. Instead, use public transport. Public transport is cheap, especially for students. You can use your student ID and get off on a lot of transportations.

Also, Germany is a bike-friendly country so many use bicycle for travelling. In fact, there is a separate lane for bicycles in Germany.
As you are gonna stay for long in Germany, most people recommend to get a Bahn card. Through this card, you can save a lot on travelling.
If travel on weekends, on one ticket you can travel for two days.
If you buy train tickets in advance you can get at half price.
Clothes
Buy clothes that can be worn on different occasion and places. Like clothes, you can wear to go to study, to a restaurant and to the market as well. Don't buy because you are bored or because it gives you happiness. Buy only if you need it. Buying branded expensive clothes that can only be worn once will be a waste of money. Buy economical clothes that you can wear again and again.
You can get economical clothes from Woolworth.
Utensils and Toiletries
About utensils and toiletries buy the one you will need. For culinary do not buy the delicate and expensive ones. Buy the ones that will last long and buy only the required amount (maximum 2 bowls for a person). Same goes for toiletries buy economical one and that will last long.
The popular shops for getting these economically are Woolworth, TEDi and Euroshop.
For toiletries, most people prefer DM and Rossmann.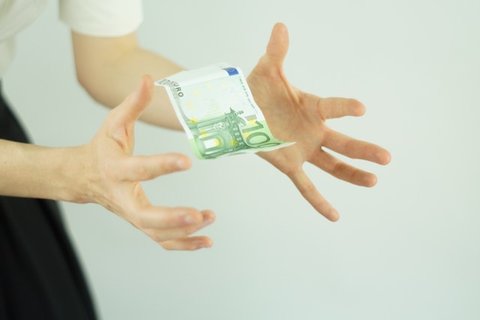 Buy secondhand
In Germany, you can get a lot of things second hand. Table, chairs, cabinets, Iron, utensils, electronics, furniture etc can be bought second hand. There are various websites where you can buy second-hand things in good condition.
The most popular website for second-hand things is Ebay kleinanzeigen where you can buy almost everything.
You can get second-hand books as well for your studies. You can get these through REBUY.
There are Facebook free giveaway groups of every city where people simply give away thing they do not need. You can get many free items from them.
Resell
As you buy the second-hand things you can also resell your things in Germany. You can sell anything you think is usable and you do not need it anymore. For this, you can use either eBay kleinanzeigen or Facebook.

In Germany, you can get some cash on Water bottles and other plastic bottles in malls. There are machines where when you give a water bottle you get some cents you can use to buy things. It is a very little amount but you can use it.
Here are some tips to save money in Germany:
Pay attention to the weekly sales offers in supermarkets and buy in bulk.
Every city has Flomarket where you can buy cheap items.
Buy from amazon on special events you can get big discounts.
If you have a parking lot, then rent it in case you are not using it.
If you want something for a limited time, do not buy it. Simply rent it or ask from friends.
Most big stores in Germany offer a discount on mobile apps, use those to apps to avail discounts.
Take your own water bottle anywhere you go. You can refill it. Not buying water bottle saves a lot.
Do not smoke. Cigarettes cost a fortune in Germany.
Do not go to malls. Whenever you go to the mall you spend a lot. Instead, go to supermarkets.
Do not shop on an empty stomach. If you shop on an empty stomach the majority of people buy extra.
We hope this article help you with your savings.