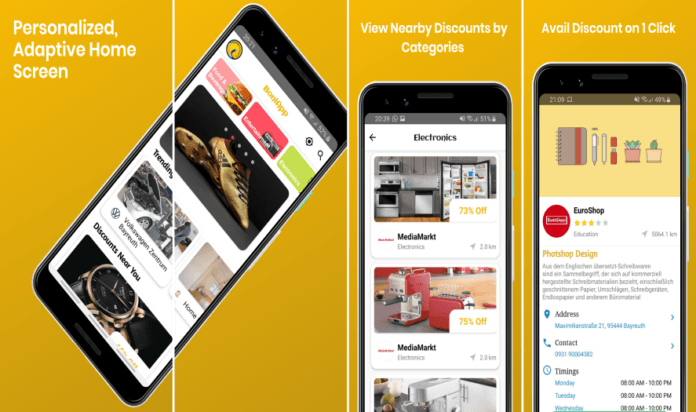 Germany is a land where you find expats from all over the world. Germany has a lot to offer it can be top-class education, tourism or jobs. Local businesses want to improve their sales by attracting local customers and all the expats. Local vendors always create brochures and discount coupons. They spend a lot of time, effort and money.
There are a few problems with such kind of approach. First of all, it cost them a lot of money. Each brochure and the discount coupon is for a limited time. And in the end, the customer they are trying to reach may not be interested in the offer.
Another aspect is even if the customer is interested in the offer it is really hard to find the coupons on time and it really hard to manage all the coupons.
The one thing that is pretty sure that all these local vendors and shopkeepers want to improve their sales by offering discounts.

Most of the local vendors don't even have an online presence. In this digital era, an online presence is one of the key factors for your success.
From the perspective of a consumer we always love to buy things on hot discounts. And it is much better to find and use all these discount coups when and where ever the consumer wants.
As a student, we (Waheed Akhtar, Maaz Ahmed and Shuaib Aslam) came up with an idea to create an Android mobile application to solve this problem. We named it BoniApp. We shared the idea with Professor Dr. Daniel Buschek and he was kind enough to work with us.
BoniApp allows local business to register with BoniApp. Within a few clicks, they can have an online presence. The next thing is to upload all the products that they want to sell as a discount to attract more customers.
On the consumer side, these offers are shown to the relevant users by analyzing user's preferences and geodata. The app would also predict, evaluate and prioritize results for its users.
BoniApp will attract customers by allowing them to find location-based discounts in their area and lookup Information on local businesses. All they must do is to select a discount they want to avail, visit the business and avail discount using QR-Codes.
As a local business owner, they won't only save money on discount brochures, they will also attract more customers. And as an extra, they will generate an online presence that didn't exist before.